Word of mouth is most often the best way to believe a product of service will work for you as well. As your committed recruitment partner, we believe in the power of employer referrals. This is why BrighterMonday wants to reward you for defying all odds and remaining loyal to us; through our 'Refer and Earn with BrighterMonday' initiative.
BrighterMonday recently released a feature that rewards you, if you refer another employer to use our jobs platform. The process is simply explained in the 4 steps below:
1. Logging in the Applicant Tracking System (ATS)
Start by logging in the ATS so that you can access your Dashboard as shown below: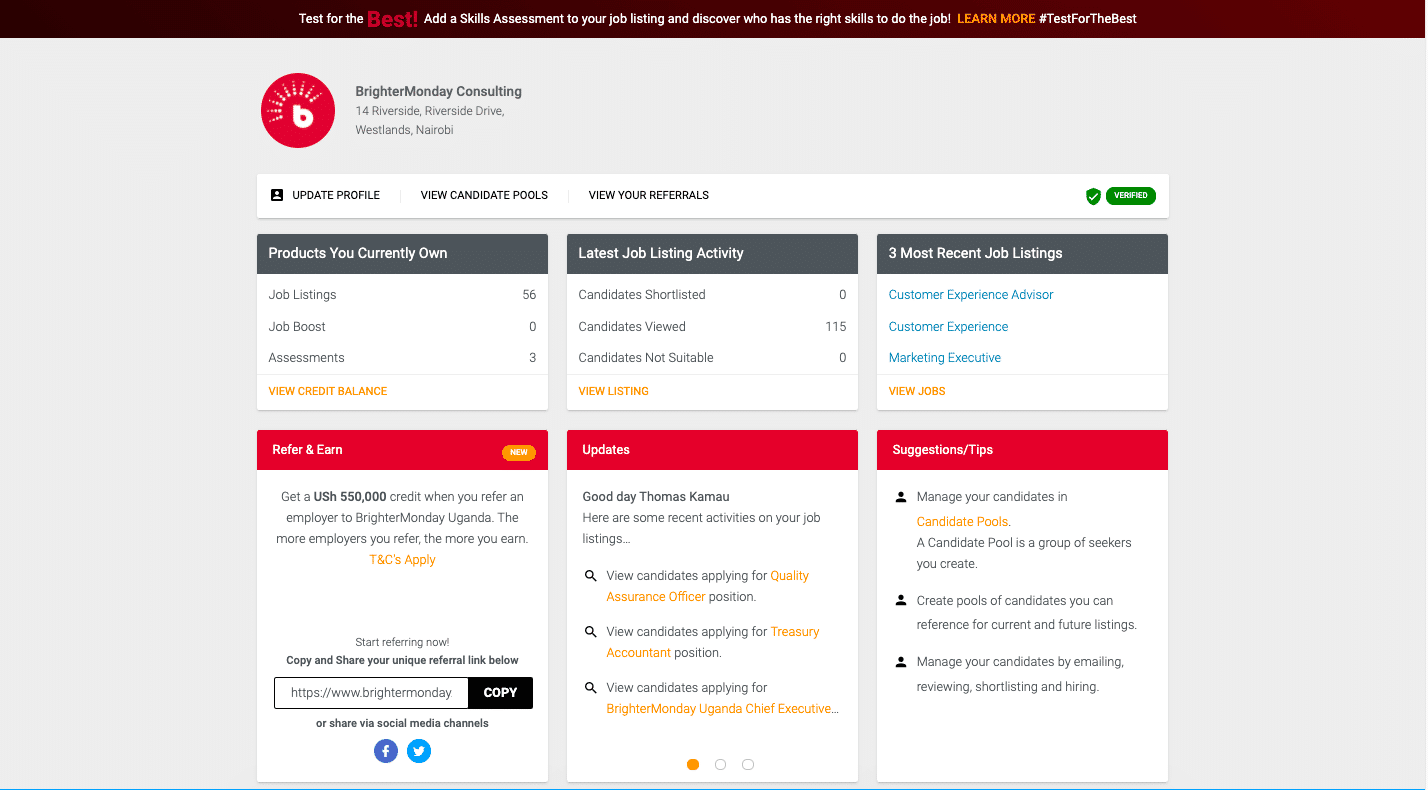 2. Copying your Referral Link
Within the Dashboard, we have added a NEW widget titled Refer & Earn. In this widget, there is a Referral Link shown in greyish font, which you should copy by clicking on the black button labelled COPY.
3. Sharing to Social Platforms
Once you have copied the Referral Link, you have to share it either via Twitter or LinkedIn as provided in the Refer & Earn widget, or you can also share it with your colleagues via WhatsApp.
4. Tracking your Referrals
Finally, you can track the progress of your referrals by clicking on the VIEW YOUR REFERRALS option as illustrated below:
Subsequently, both you and your colleague will be rewarded with a Free Skills Assessment Credit worth KSH 15,000, if they successfully managed to sign up via the Referral link that you shared with them then proceeded to make a purchase.
Tip:
You can use the rewarded Skills Assessment Credit on either a job which you are about to advertise, or on one which you posted in the past and you haven't yet started shortlisting. Click HERE to learn more on how to assess the skills of candidates who had previously applied for a job that is no longer active on the website.
Additionally, you can also find our latest report on The Impact of COVID-19 Jobs that was published by BrighterMonday here.