BrighterMonday has launched the Kenya Employee Satisfaction Report for 2021.
The report unpacks employee satisfaction among Kenyan employees and explores themes around external and intrinsic traits, employee happiness, flight risk, employer advocacy, job satisfaction and delves into insights based on age, gender, location, job level and work experience for a demographic overview
A total of 1,760 respondents were surveyed, and from the study findings, strong, relatable company values and goals were ranked as the most important external trait, the competitive package was ranked as the most important intrinsic trait that respondents desire in an ideal company.
This study is a call to action for companies to analyse the key variables that drive employee happiness for both existing and future employees. It also gives critical market data that can be used as a guide to prioritise employee satisfaction in the workplace, boost productivity, and overall long-term success.
The Methodology
The research method adopted was an online-based survey among the total sample size of 1,760 respondents, entry-level, mid-level and senior-level alike.
The survey includes open-ended and structured questions about business traits and qualities, employee morale, engagement, and safety and security. It was shared out via email and social media platforms.
The responders were asked the following questions:
Rank external qualities they want in a company, i.e. qualities that aren't as important as internal qualities but are desirable.
Rate the inherent qualities of a firm that are most essential to them, i.e. qualities that every company should possess.
Rank their present employer's outward and inner characteristics.
Questioned their level of happiness with their current job.
We wanted to know if they were happy in their current situation.
We inquired as to whether being content with one's employment boosts productivity.
Asked about their willingness to leave their present company within the next six months.
We inquired about their willingness to promote their present employment to others.
Key Insights Into Employee Satisfaction
At a time when companies are under pressure to grow and have diverse workforces, it is easy to look at employee satisfaction as a burden.
However, healthy employee satisfaction is one of the best signals of a happy workplace. A happy employee is more productive, commits to the job, is more likely to stay and tends to stay with the company.
Employers in Kenya must therefore prioritise employee satisfaction as it leads to higher retention once a company understands what its employees need, appreciates their personal goals, and nurtures employee relationships.
Most respondents said their current employers embody their ideal traits but pose a high flight risk. 54% of the respondents are likely to leave their current employer in the next six months while 35% are not sure.
Despite being enhanced by COVID-19, remote work was not as highly scored as one might expect. However, most respondents are neutral about their happiness levels and would recommend their current employer. With 42% stating that they are satisfied with their current workplace.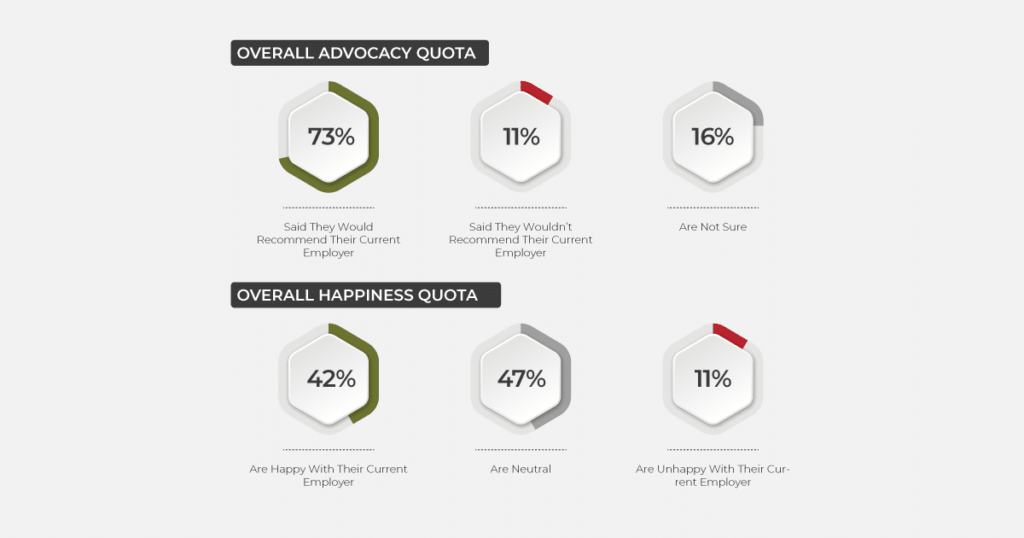 So, there you have it.
Employers should strive to develop and maintain comprehensive employee satisfaction strategies that address employee achievement, personal development, job satisfaction and recognition in a variety of ways. These include fair compensation, good working conditions, improved communication at all levels, and overall employee well-being in all relevant spheres. Download the report for free and take a deep dive into an Employee Satisfaction report. It will help you understand what employees appreciate in today's job market.