Today we released the 2018 Best 100 companies to work for report, a compilation of sought-after employers in Kenya, as voted by current, former and prospective employees.
Here at BrighterMonday, we are thrilled to congratulate the winners. These employers have made a deliberate effort to make their offices a place employees feel a sense of pride and belonging.
In case you are an employer wondering how to boost your brand position, our guide to employer branding might help. If you need tips on recruiting, workplace issues, developing talent and employee retention, check out the Employer's Corner for these and more.
First, here are the top 10 companies in the Best 100 list
See all the companies that made the 2018 list in the infographic below.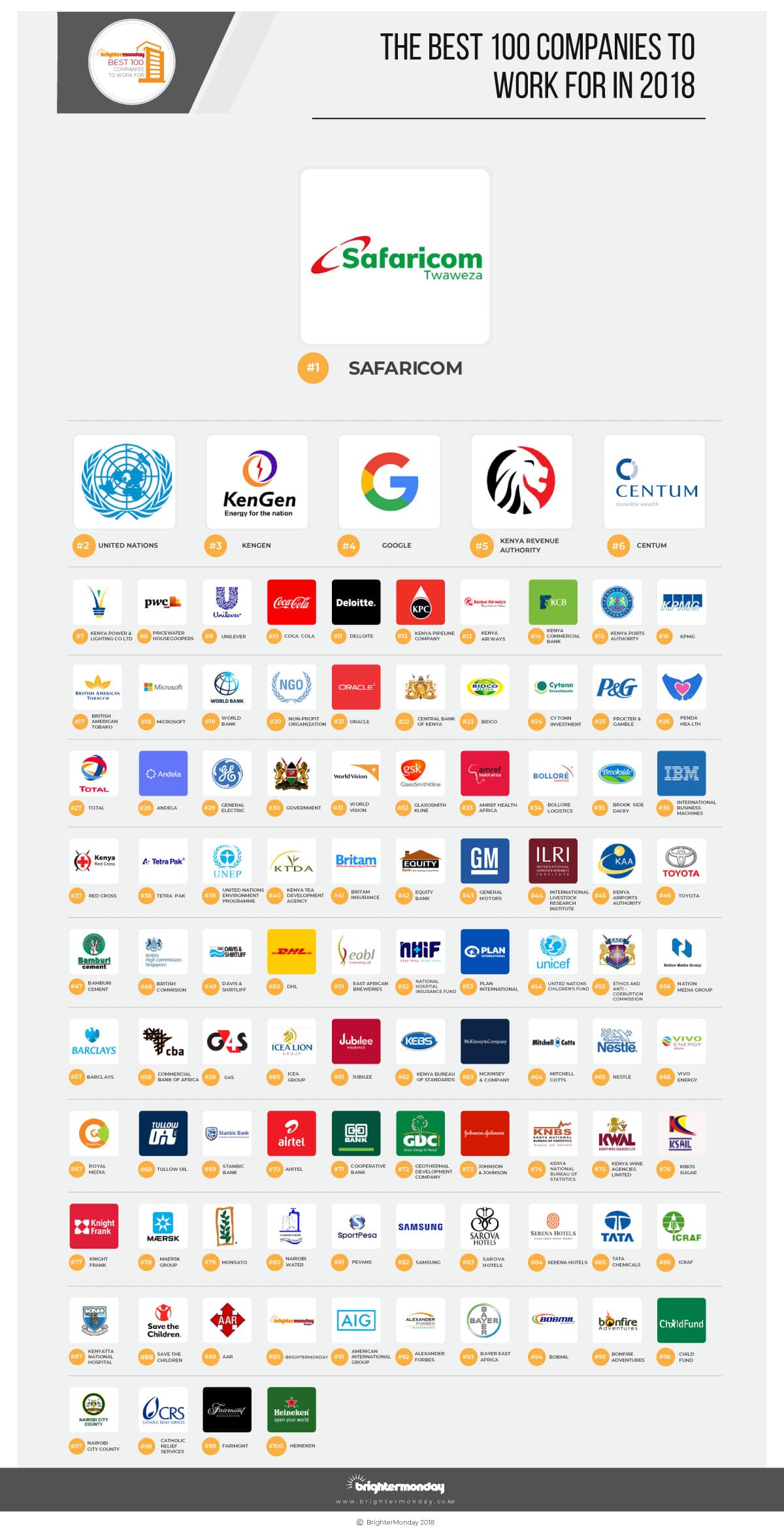 Leading companies in different industries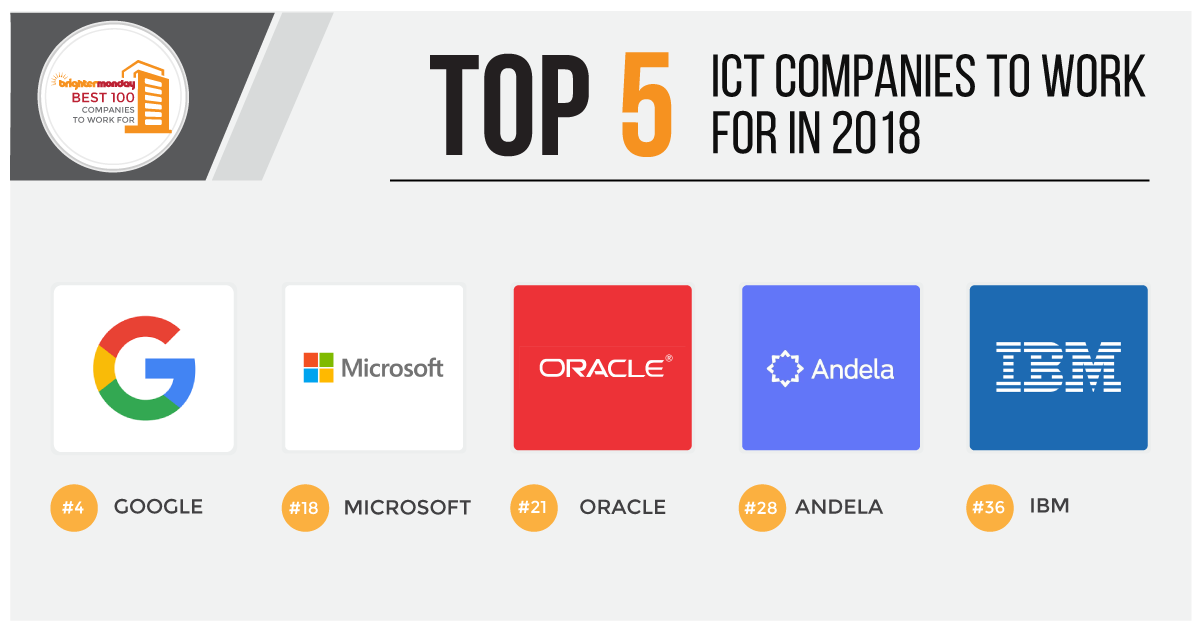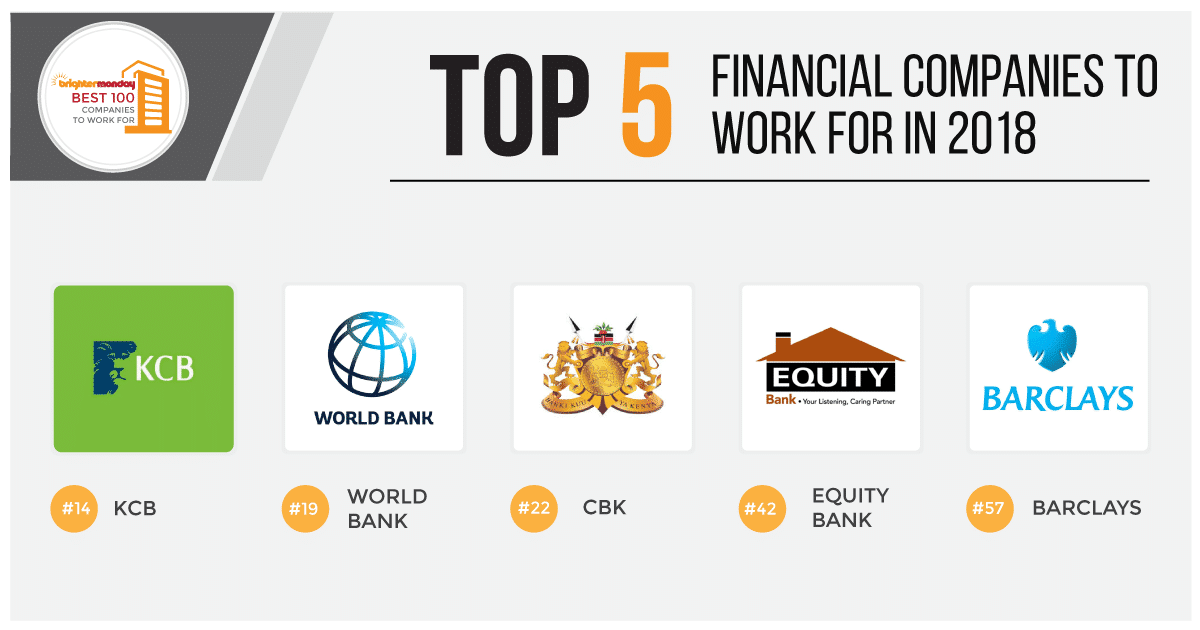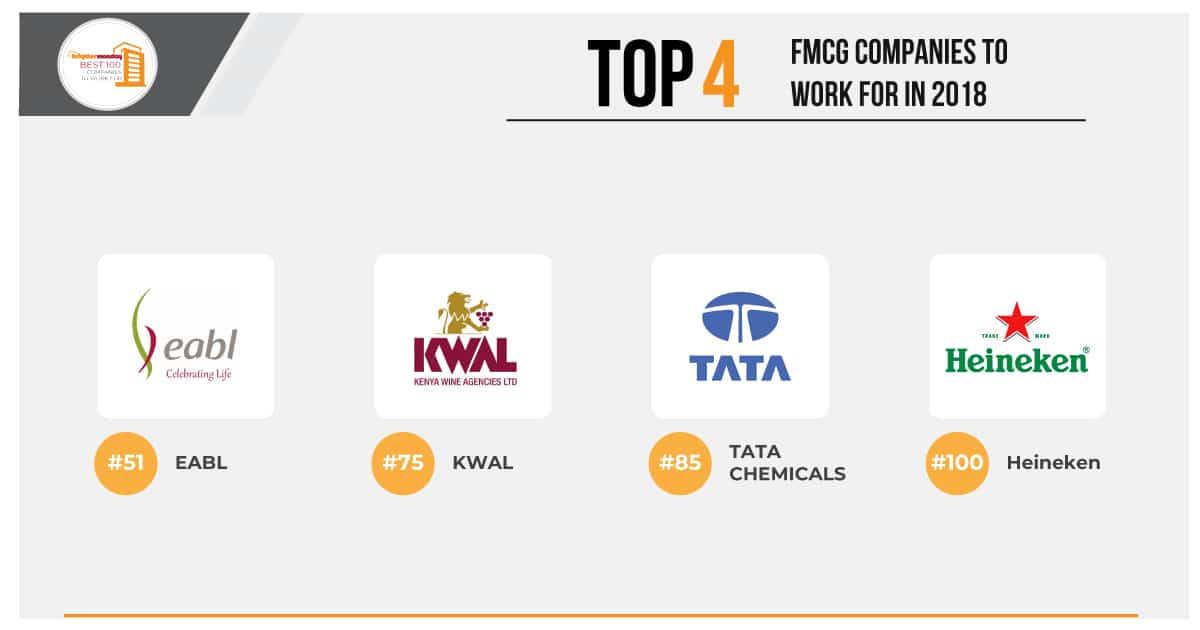 So, how did we determine the 2018 best 100 winners?
The main factors we used to determine the best 100 companies are attributes that matter most to employees. These include;
Pride:

How employees feel about working in the company. Is their sense of belonging strong enough for them to recommend someone else to work for their employer?

Culture:

How engaged are employees? Do they feel like they are living the company's vision and mission?

 
Career growth:

Do these companies provide opportunities for upward mobility as well as lateral development?

Diversity and inclusion:

Do the companies provide opportunities for diversity and inclusion where different people from different background thrive?

Competitive pay package:

How competitive their remuneration packages are

.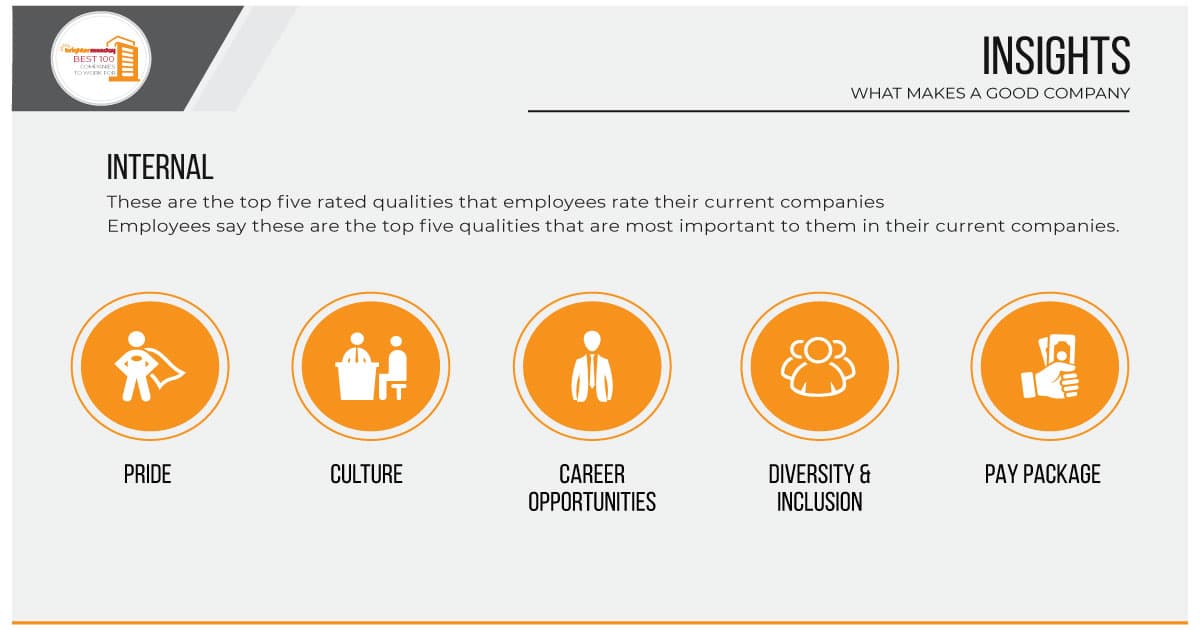 We sent online surveys to our database of over 800,000 employees and analysed feedback from current and former employees of companies listed. Respondents were expected to provide information on defining attributes like gender, age and their level of experience. This data was then analysed and clustered to create the report.
There are some interesting demographic insights
We were able to get some insights into how different demographic and job experience segments think: their motivations, their desire to leave their current companies, their overall satisfaction etc.
Some highlights include:
Men occupy more senior level jobs while women take up more entry-level and mid-level jobs.

There is a higher percentage of male earners in the higher salary bracket.

There is a higher percentage of employees who are not willing to recommend their employer.  

The level of job satisfaction is low in both male and female employees, but lower in the female employees.

Female respondents posed a greater flight risk (willing to leave their current place of work) when compared to their male counterparts.

Younger employees have a positive perception of their companies but they are still willing to leave when better opportunities come knocking.

Both men and women value the same traits in a company. The top 3 traits being: Good Pay, Job Security, and Proximity to Home.
These are just a few, more insights are contained in the report.  You can download the full report here.
How to build a stronger employer brand
Do you wish to appear in the next best 100 companies ranking? Would you like to improve your employee retention strategy? You need to begin working on improving the aspects of your company that your employees consider important to them.
Give your employees a sense of pride:

Your

vision, mission and values should make your employees proud to be associated with. Support them with tools they need to embody your vision.

Rethink your culture:

Culture is a sum total of employee engagement and how well the company vision lives through them. Create such an environment. Involve them in shaping the company culture.

Provide career growth opportunities:

Provide opportunities for upward mobility and lateral progress.

Encourage and implement diversity and inclusion:

Diversity and inclusion encompass all spheres that make people unique and special, not just gender. Ensure your workplace has an environment where anyone of any race, age, tribe, and gender, can thrive without discrimination.

Endeavour to provide a competitive pay package:

Work to ensure your remuneration packages are competitive in your industry. If your budget cannot allow you to compete with more established competitors, consider offering attractive benefits.
Once again, congratulations to the best 100 companies, and thank you for living your true branding inspiration through your employees.
Download the full report for comprehensive analysis of the best 100 companies to work for survey.