Today we released the 2019 edition of the annual Best 100 companies to work for report.  As always, this is a compilation of sought-after employers in Kenya, as voted by current, former and prospective employees on both intrinsic and extrinsic factors they consider important. 
This is the second report of its kind with the first Best 100 Companies to Work for report hitting the market in 2018. The first report showcased insights on what employees consider important to have in the workplace to increase productivity. This year's report also featured these important factors. 
As always, we are thrilled to congratulate the winning companies who have shown These employers have made a deliberate effort to make their offices a place employees feel a sense of pride and belonging.
In case you are an employer wondering how to boost your brand position, our guide to employer branding might help. If you need tips on recruiting, workplace issues, developing talent and employee retention, check out the Employer's Corner for these and more.
Download the BrighterMonday Best 100 Companies to Work for 2019
Here are the Top 10  of the Best Companies to Work for in Kenya
Methodology in Choosing the Best Companies in Kenya
BrighterMonday sent out a survey to its over 800,000 users. A total of 3,448 valid responses were used in the final analysis with data from two surveys – external and internal.
The external survey targeted the general public while the internal survey focused on employees working at numerous companies in Kenya. Majority of the respondents were aged between 25-35 and 18-24, live in Nairobi and hold a Bachelor's degree.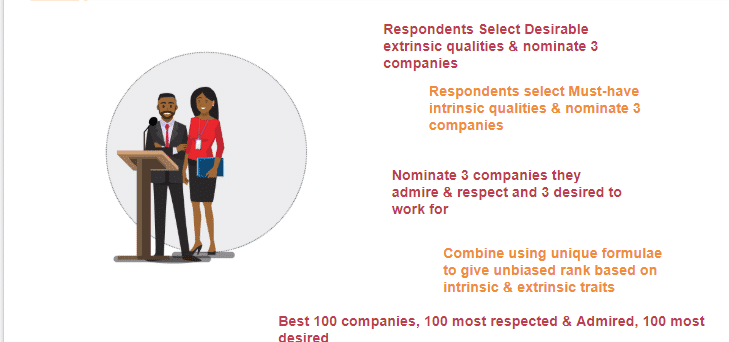 Here is the Full List of the Best 100 Companies to Work for in Kenya 2019
Download the BrighterMonday Best 100 Companies to Work for 2019
Intrinsic and Extrinsic Traits Ranked by the Respondents


Quick Industry Insights from the Report
Men still occupy more senior positions in companies as reflected in the 2018 Best 100 Companies to Work for report.
More people are willing to leave their current employer should another opportunity open up
The number of employees who would recommend their current employer to a friend or relative has gone up
Only 39% of the respondents are currently happy with their current job.
58%of the respondents felt that they were valued for their contribution in the workplace.
Different respondent age groups desire different traits in the workplace.
The age group demographic with the highest engagement level is between ages 25-35.
Most entrepreneurs are between the ages 25-35
These are just a few, more insights are contained in the report.  You can download the full report here.